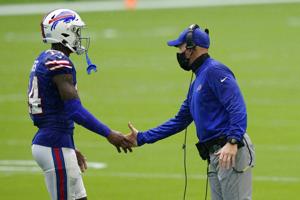 For example, Daboll shared the story of what happened on the sidelines during Sunday's 31-28 victory.
"Smoke (Brown) goes up with me onto the headphone. He said," Keep feeding 14 (Diggs). "Daboll said, This is the kind of guys you want to work with." Then we get into the break and Diggs said, "Hey, we can have Smoke Here, and we can have Bease here. "They work together and work for one another. When you have a group of players, especially in that room who are not selfish like that, you love to see that as a coach because there is one ball. And everyone wants that, rightly so.
But for them to work together this way, and get back together, it's Diggs, it's Smoke, it's Bease, it's Gabe (Davis) learning from these guys. … it's a fun group to work with. "
Here are four additional notes from Monday's press conferences with McDermott, Attack Coordinator Brian Dabol and Defense Coordinator Leslie Frazier.
1. McDermott said Dawson Knox is in the NFL concussion protocol. He didn't have much updates on midfielders Tremaine Edmunds and Matt Milan, both of whom missed Sunday's match.
He said, "These men work through things." "We will know more in the coming days."
Around the league, a series of injuries prevailed in Week 2. The giants running full-back Sakon Barclay and 49 players both lost Nick Bossa's pass this season due to knee injuries. Midfielders Drew Locke (Broncos), Jimmy Garoppolo (49ers) and Terod Taylor (Chargers) began injured, as were the Panthers who returned Christian McCaffrey, among several others.