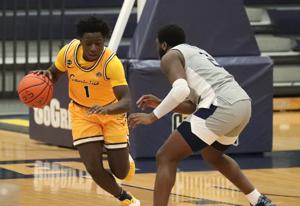 Defeating the Purple Eagles of the Marist, 86-72
Nick MacDonald made three of his three-pointers during the Niagara 20-0 career in the first half, the Purple Eagles made an impressive attacking display in an 86-72 victory over Marist at the McCann Center in Poughkeepsie, and had a split from the two-game MAAC series with Red Foxes. Niagara 4-4 overall and 3-3 in team play.
MacDonald, a sophomore from Amherst who played at Canisius High and is the son of Damon and former Canisius coach Mike MacDonald, scored 5 of 7 in four minutes and 50 seconds to help Niagara jump from a 13-8 late to 1. 34-17 advantage.
Greg Paulus' side led 49-37 in the first half, but Marist came close to seventh, 69-62, with 4:50 remaining in the second half. Niagara didn't budge, however, thanks to its nearly perfect free throw shot. The Purple Eagles made 24 out of 25 on the streak, to make their first 21 before Justin Roberts missed their first two goals 52 seconds ago.
McDonald's all 15 points came three times, all in the first half. He played only 16 minutes. MacDonald was one of Northwestern University's five double-digit goalscorers. Marcus Hammond had 23 to lead Niagara, including 5 out of 7 on triples. Rahim Suleiman scored 15 points. Kobe Nwando scored 14 points and Roberts 11. Ricardo Wright led Marist with 16 points, but he made three foul shots in the second half after scoring six baskets, including four haters, in the first half.