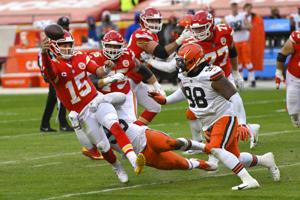 1. History lesson: Arrowhead Stadium opened in 1972, but it was 19 seasons before the Chiefs played their first postseason games there in 1991. After Sunday's victory over the Browns, they are 6-7 in playoff games at Arrowhead. Between 1995 and 2017, the Chiefs lost six consecutive home postseason games, two as the No. 1 seed in the AFC and two as the No. 2 seed. Kansas City is 8-1 at home this season, with the lone loss coming to the Las Vegas Raiders 40-32 in Week 5. 
2. Mahomes Magic: Mahomes, the reigning Super Bowl MVP, had 38 touchdown passes – good for fourth in the NFL – in the regular season, 19 in eight road games and 19 in seven home games that he played. Fourteen of his 22 sacks came in road games. He was intercepted only six times, three times in a win at Miami, which led to 10 points and a missed 45-yard field goal by the Dolphins. Mahomes was 20 for 26 (80.7%) for 225 yards and two touchdowns against the Bills. He was sacked once. Mahomes had a season-high 10 carries for 36 yards against Buffalo. 
3. Super targets: Tight end Travis Kelce was targeted 145 times and caught 105 passes for 1,416 yards in 15 regular season games. He had five or more receptions in 13 of the 15 games, and touchdown catches in 10, including the last four. He has caught at least one pass in 110 consecutive regular season games. Kelce was second in the league in receiving yards to the Bills' Stefon Diggs (1,535 yards). Tyreek Hill had touchdown receptions in 11 of 15 games he played and five or more receptions in nine.