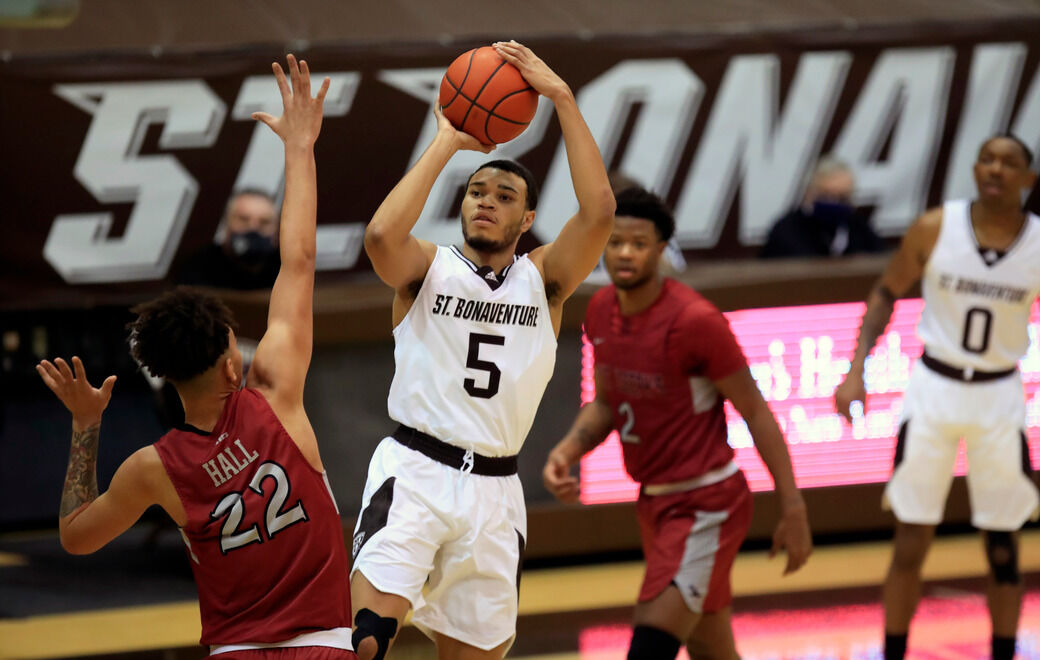 The St. Bonaventure University men's basketball team wasn't going to be fooled by the winless record of Saint Joseph's.
The Hawks had taken their lumps against nationally ranked teams during its nonconference schedule, including Kansas, Villanova and Tennessee. The Bonnies, meanwhile, were coming off a win against Richmond, the preseason favorite to win the Atlantic 10 Conference.
But the Bonnies weren't going to focus on their last win, or on the goose egg that prefaced the Hawks' record. They had to look at the team in front of them, particularly one that initially kept the pace in the Bonnies' 83-57 win Wednesday at the Reilly Center in Allegany.
Kyle Lofton, the Bonnies' leading scorer this season, didn't score until he hit a pair of free throws with 5:35 left in the second half, but Jalen Adaway and Jaren Holmes picked up the scoring slack for the Bonnies (4-1, 2-1 Atlantic 10 Conference), particularly necessary after a first half in which the Bonnies went scoreless in a stretch of nearly six minutes.
Adaway scored a season-high 38 points and Holmes added 24. Adaway also hit eight 3-pointers; the Bonnies entered the game shooting 28.6% on 3-pointers.
Taylor Funk and Cameron Brown each scored 13 points for Saint Joseph's (0-8, 0-3).
Bona took an early 12-6 lead on 5 of 6 shooting in the first three minutes, and opened their lead to 16-8 less than five minutes in. But the Hawks cut Bona's lead to 16-13, on back-to-back shots by Brown and Funk. After Osun Osunniyi's free throw at 13:42, Jordan Hall's 3-pointer 20 seconds later brought the Hawks within a point.