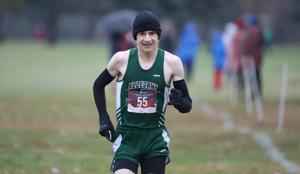 The Legends failed to repeat as team champion as Clarence captured the A-Class, 55-82. Noah Holden took fourth place overall. Others who contributed to the victory of the Red Devils were Jeff Zhang (8th) and Ryan Rajapakse (13).The tenth), Will Reed (14The tenthRyan Prize (16The tenth). This culminated in an amazing day for Clarence, who also won the girl team championship.
"The win in both teams was amazing," said Justin Weldon, coach of the Red Devils. "The kids have put in a lot of work throughout the season. It was really one of their big goals to finish the season at the championship level and I'm so proud of them to do that."
Meanwhile, Allegany-Limestone had a great day running away from all competitors. All five-goal Gators contestants finished 12th led by winner Wisniewski – enabling them to win their first Division Six team title since 1999. He finished A / L with 28 points. Falconer / Cassadaga Valley followed with 44.
"It feels great," said Wisniewski, who finished third in the CCAA Championship meeting. "We were all packed up then I took off and they never caught up."
Daniel Casey (17: 37.19) and Jacob Brink (17: 44.12) took the third and fifth places, respectively, for Gators, while Cole Carpenter finished seventh (18: 20.20). Alex Reddy finished their A / L winning streak at 12The tenth (18: 42.7).