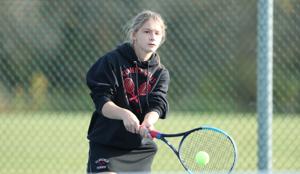 The 5-foot-3, Ace won the ECIC title last fall and finished second in the Division Six Championships, falling in the final to Grand Island's Kiersten Brown, who stands 6-3. Eiss finished third in the divisions as a freshman and third in doubles as a sophomore to also qualify for the state event. Every year she won at least her NYSPHSAA first-round match, which is not easy.
But this reinforces its reputation as a competitor.
Eiss has shown a lot of spirit since her first season as a freshman, when she beat her teammates – including young and old – in challenge matches to earn the right to be Clarence's best single player.
"I would say Madeleine is very competitive," said Mike Delsenor, a longtime Clarence coach. "She wants to win every match and every training. … She has improved her game in many ways. She has added diversity in the way she can build points, and I also think she has grown in the mental side in terms of staying strong and positive during the ups and downs of the match."
Maybe the coach is tempted to work slowly with a talented young player like Ace, maybe hiding a talent in doubles and waiting for a strategic moment to take it to singles. This is not the DelSignore method.
"Girls gain their positions through playing, and she won," Dellsignor said. "There were kids and adults in front of her, but she hit them. I knew she was capable. … It was the right place for her. She is very intelligent, very attentive, a conscious personality and she is very mature."