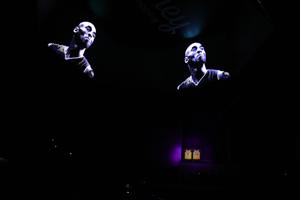 Butler was taping an ad last year for Mountain Dew. He took a sip for the cameras. He then spit the drink out.
"Out of respect to my brother," Butler said.
Butler and Bryant were brothers in the teammate sense. Tony Altobelli lost his actual brother, John Altobelli, in the crash. Alyssa Altobelli was a teammate of Gianna Bryant; she was on the helicopter along with John, her father, and mother Keri.
John Altobelli was the baseball coach at Orange Coast College in Southern California. Tony Altobelli is the sports information director at that school; sports information directors are tasked with promoting their teams, in good times and bad, always trying to find a positive way to tell a story. And somehow, even for a story this painful, Tony Altobelli has managed to do that.
His brother died with Kobe Bryant. That's how the world got to know who his brother was.
"It's nice to see his memory, and just his way of his life being celebrated by people far beyond our area," Tony Altobelli said. "It takes a little bit of the sting off what happened. I've kind of jokingly said if it had to happen, I'm glad a global figure was with him when it happened because now the whole world knows about my brother, my sister-in-law and my niece. And I think that's pretty cool."
Christina Mauser died in the crash as well; she was one of the coaches at Bryant's academy. Tony Altobelli and Mauser's husband Matt have become friends in the last year; they didn't know each other before Jan. 26, 2020. Matt Mauser has organized a concert to honor those who died in the crash and to serve as a benefit for the foundation he started in his wife memory; it streams Tuesday night.