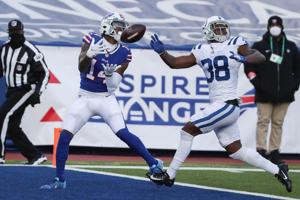 "We practiced at a big public school in Cincinnati before that game, and afterwards, I thanked the coach of the school who was watching our practices, for allowing us to practice there," Milloy said. "St. Xavier was a top 20, USA Today ranked team, almost every year. The coach said, 'Good luck, but that team will have no answers for No. 14' – and he pointed to Stefon."
The coach was right. Diggs had a 50-yard interception return for a touchdown, one of his two interceptions. He also had two sacks and two tackles for loss on defense, and had five catches for 91 yards. His 76-yard punt return for a touchdown was nullified by a penalty. 
Good Counsel also made Diggs into a social media phenomenon, before it was trendy to have a social media presence. Good Counsel's football program set up its own Twitter handle, @gcfootball, and regularly posted video highlights of Diggs. Good Counsel also tracked Diggs' recruiting path, including his college visits. 
"The kids loved the SportsCenter moments he made, making a miss, then making a juke to score a touchdown," Stefanelli said. "It went out on social media, kids saw it, and that drew attention."
Diggs, a 2012 graduate of Good Counsel, was named the MVP of the 2011 U.S. Army All-American Junior Combine, a recruiting showcase that hosts 500 sophomores and juniors from across the country. A year later, he played in the Army All-American Bowl in San Antonio, which includes the top 100 high school football players across the country. Diggs signed with Maryland in February 2012, and spurned offers from schools such as Florida, Ohio State and Auburn.