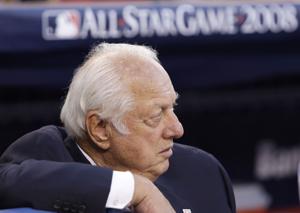 He compiled a 1,599-1,439 record, won World Series titles in 1981 and '88, four National League pennants and eight division titles while serving as Dodgers manager from 1977-96.
He was elected to baseball's Hall of Fame in 1997 as a manager. He guided the U.S. to a baseball gold medal at the 2000 Sydney Olympics.
Lasorda was the franchise's longest-tenured active employee since Hall of Fame broadcaster Vin Scully retired in 2016 after 67 years. He drew standing ovations when introduced at games in recent years.
He often proclaimed, "I bleed Dodger blue" and he kept a bronze plaque on his desk reading: "Dodger Stadium was his address, but every ballpark was his home."
As a pitcher, Lasorda had a modest career at the major league level, going 0-4 with a 6.48 ERA and 13 strikeouts from 1954-56.
Born Thomas Charles Lasorda on Sept. 22, 1927, in Norristown, Pennsylvania, his pro career began when he signed with the Philadelphia Phillies as an undrafted free agent in 1945. He missed the 1946 and '47 seasons while serving in the Army.
Lasorda returned in 1948 and once struck out 25 players in a 15-inning game. In his next two starts, he struck out 15 and 13, gaining the attention of the Dodgers, who drafted him from the Phillies. He played in Panama and Cuba before making his major league debut on Aug. 5, 1954, for the Brooklyn Dodgers. Although he didn't play in the 1955 World Series, he won a ring as a member of the team.