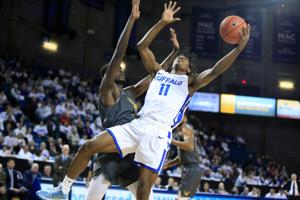 The University of Buffalo Men's Basketball Team has got a new opening date for the 2020-21 season.
UB announced Tuesday that its season is scheduled to open at 4:30 p.m. Friday against Towson at the Bubbleville Championship at the Mohegan Sun Arena in Uncasville, Connecticut, the first of the two matches the Bulls are scheduled to play in the tournament; UB is set to face the military at 3 pm on Saturday.
UB's first season opener against Gannon on Wednesday at Alumni Arena was canceled after Gannon had tested positive for Covid-19 on his show. UB was also slated to play Vermont and Yona in Bubbleville, but the Catamounts and Giles walked out of the action.
The Bubbleville event will be the second meeting in several years between Towson and UB and also the second meeting in several years for the Army and UB. The Bulls defeated Tucson 76-73 on November 22, 2019, at the Charleston Classic (SC). The Army defeated UB 89-76 on December 14, 2019, at Alumni Arena.