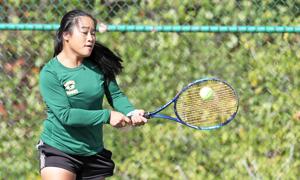 Eileen Wang of Williamsville North completed a victorious comeback to ECIC girls' tennis by winning the league championship on Saturday at Miller Tennis Center in Williamsville.
Wang defeated defending champion Madeleine Ace of Clarence 6-1 6-3 in the championship match. Eiss lost only two games during the first ECIC season, both to Wang. Wang lost only 10 games during the season, all of them to Ace.
After winning the Sixth Division title as an eighth grader in 2016, Wang withdrew from the school competition to focus on playing the USTA Junior Junior Tour. She returned as a senior student this year to complete her eligibility.
Orchard Park's team consisting of Olivia Bartoche and Kennedy Mills won the doubles title over Julian Bolton and Ava Castle of Clarence 6-1 6-3.